O2 West Personal Fitness & Active Rehab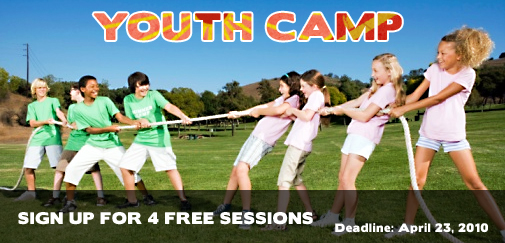 Fit Kids Perform Better at O2 After School / Weekend Youth Camps
WOW! 2 FREE TRYOUT SESSIONS. FIND OUT HOW AND REGISTER NOW! Deadline: April 23, 2010
O2 Fit Camps are the very first of its kind in Vancouver. Our fit camps offer customized after-school programs for positive childhood development. All proven major studies and research including the Journal of School Health prove fit kids score better academically and benefit significantly from health and fitness at a young age.
Exercise helps brain flow and concentration. Starting at an early age, fitness dramatically reduces the risk of cardiovascular disease which is now a global concern.

O2 West is the proud sponsor of the 2010 Senior Female Athlete of the Year category. The award recognizes an extraordinary athletic performance by a high calibre female athlete in BC. The winner will be honoured with an award presented by O2 West for her achievements at Sport BC's 44th Annual Athlete of Year Awards on Wednesday, March 31.
Senior Female Athlete of the Year
Vancouver's Most Exclusive Fitness Studio
O2 West takes the lead in the personal fitness industry. O2 is owned and operated by Andy Shiu, renowned International Athlete and Master Trainer. With more than 25 years of experience, Andy ensures results with the most effective techniques and high standard. The O2 studio is designed from the ground up with emphasis on creativity and function.
It is also equipped with only the best available equipment including LifeFitness and Iron Grip. Clients are able to workout comfortably in the most hygienic and private setting with access to any desired equipment on demand
Services Notes